Day Trip To Laungewala And Tanot Mata Mandir
Laungewala and Tanot Temple are two places of Indian history very close to each other. Tanot Temple is a miraculous temple famous for India-Pakistan 1965 war and Laungewala is border outpost known for 1971 war.
After spending an amazing time at Sam Sand Dunes we decided to explore these places of significant background. We travelled back to Jaisalmer and booked a hotel. We kept our luggage there and rented a bike. 
I have a habit of carrying my helmet with me when I travel to a new place. There are three reasons for this. First, I have a camera mount placed on my helmet that can hold the action camera. Second, I do not rely on the helmets provided with the rented bikes. And third, it is like a curse attached to me either I travel on my bike or rent a two-wheeler wherever I travel to. 
We recorded all of our videos from the action camera uploaded on our You Tube channel.
Off To Laungewala And Tanot Mata Mandir
I like to visit places with a defence background. My father served in the Indian Air Force so these places were must-visit for me. We started at around 8 am morning. We decided to visit Laungewala Post first and than Tanot Mata Mandir.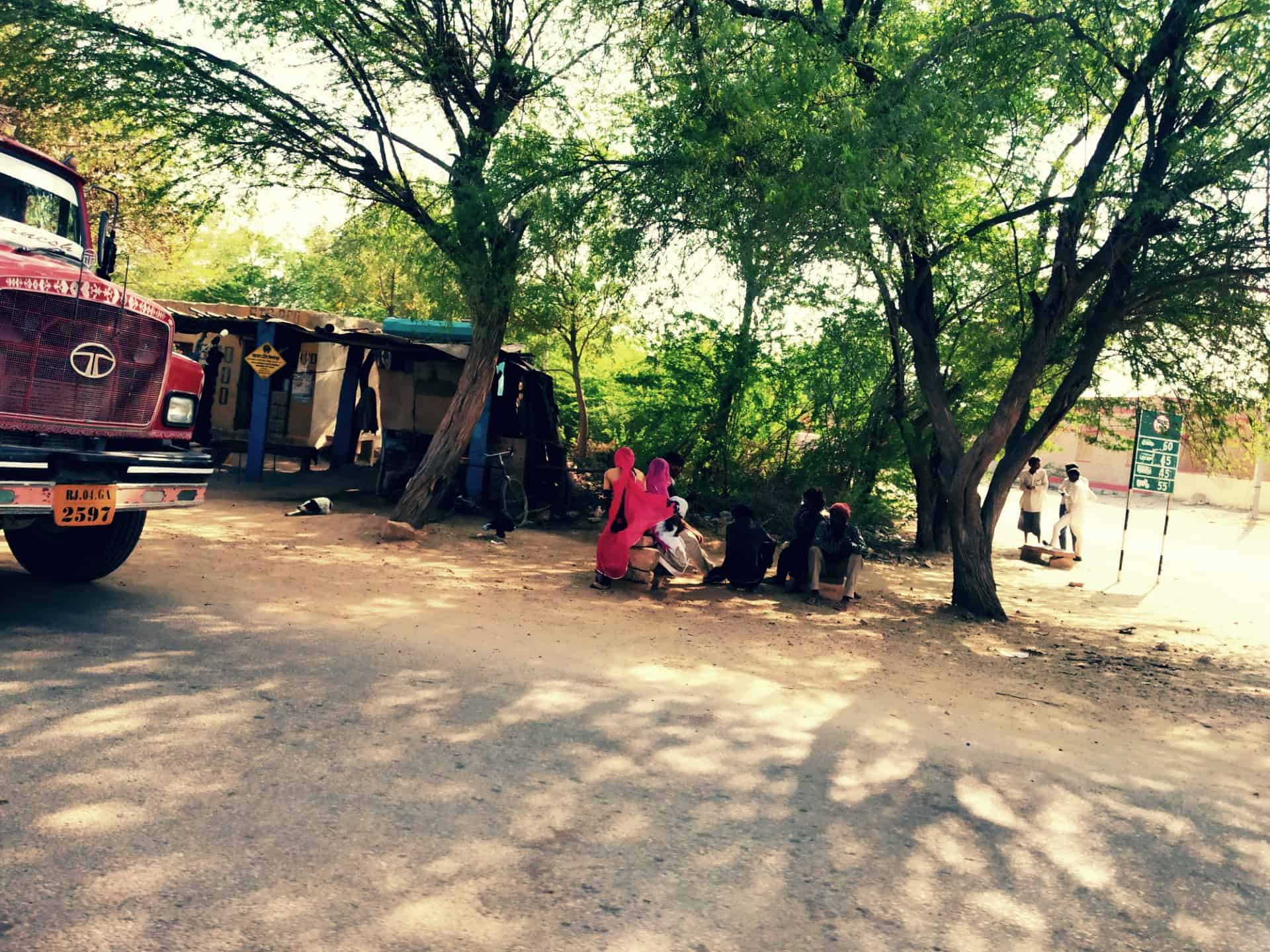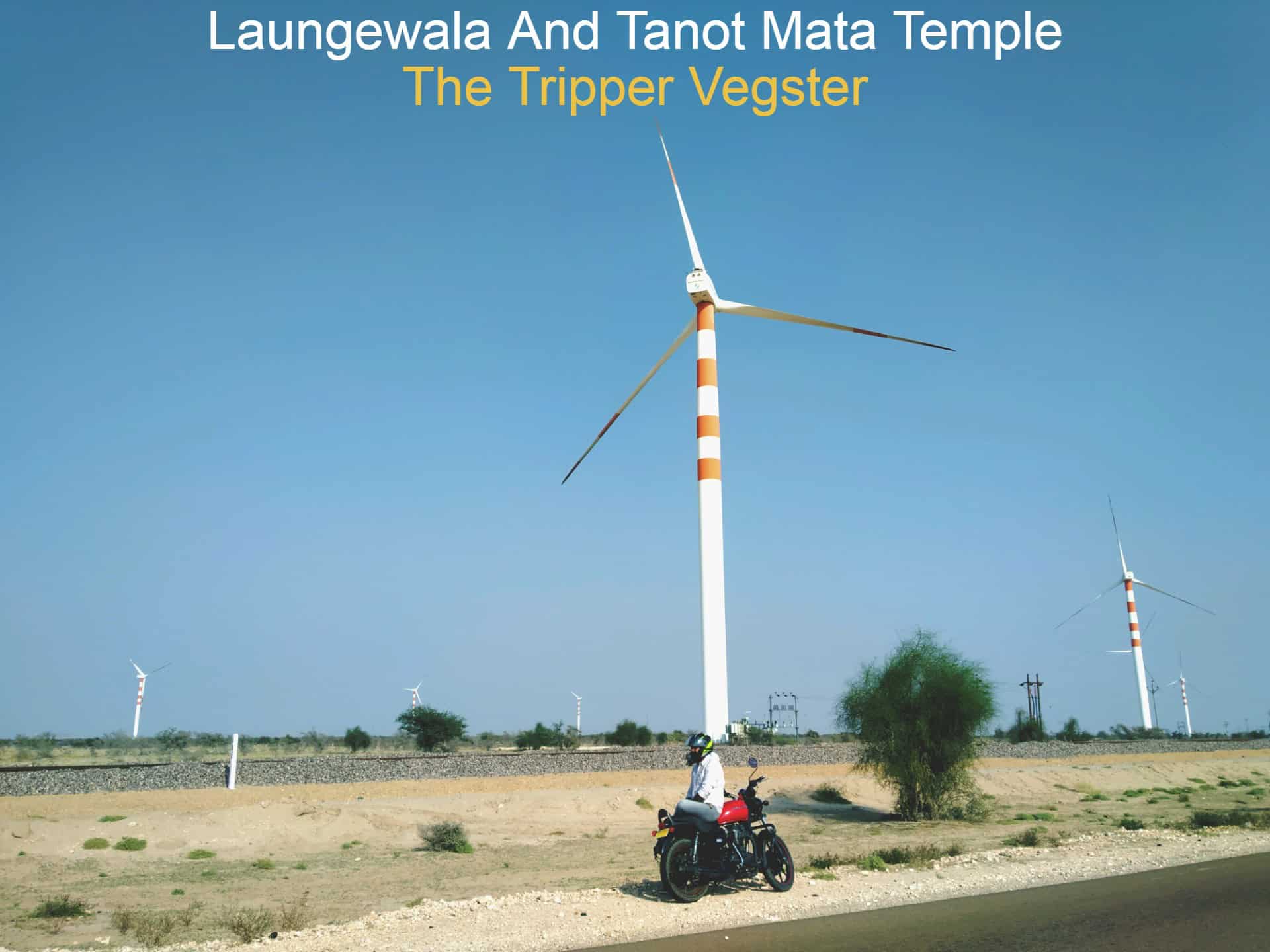 You can visit Tanot Temple and than Laungewala also as the route is same till Ramgarh. Ramgarh, Laungewala and Tanot Temple forms a triangle of road.
Landscapes On The Way To Laungewala And Tanot Mata Mandir
Till Ramgarh, the land is barren with little bit of hint of sand. Cactus and Babul tree is covering most patches of the land. For a change, the landscape looked awesome. But it was also depicting the harsh conditions to survive for the people.
After Ramgarh, the landscape changed from flat barren land to huge sand-dunes. Some were standing like mountains. There was hardly any vegetation. It was like a brown ocean to the distance your eyes can see. Piercing through that was a single road from Ramgarh to Laungewala.
Pillars depicting the border region were standing on the top of these sand-dunes. More we were moving towards the border, lesser the human bodies we were meeting. Villages were too small having a maximum of 10-15 houses.
Laungewala : A Living Memorial Of Indo-Pak 1971 War
From the time I landed in Rajasthan, this was a must-visit place for me. Laungewala Post is open for everyone. However, to visit Indo-Pak border one need to take permission first. Carry your personal identification card with you. At the entrance the on-duty BSF soldier will note down your ID number. 
This place is famous for a brave stand by 120 soldiers against 2000-3000 Pakistan Soldiers with 30-40 Tanks. Whats more surprising is that Indian Army was having only one Jeep Mounted RCL against such a large infantry 
23rd Punjab Regiment led by Maj. Kuldip Singh Chandpuri was having an option to retaliate as the enforcement couldn't be provided at the time of attack. However the regiment decided to fight back and rest is history. Pakistan Army lost about 36 Tanks and 200 soldiers. On the other side, 2 Indian soldiers lost their lives.
There is a small War Memorial Museum and theater that holds the memory of 1971 war. As I came out of theater, I had goose bumps and was thrilled by the brave efforts of our Indian Army. Some captured Tanks and destroyed Pakistan army vehicles are still kept as a token of bravery. 
To put things in simple words – " Only the best of friends and worst of enemies visit us – Indian Army"
Tanot Mata Mandir(Temple)
Next up we drove to Tanot Mata Mandir. It is about 52 Km away from Laungewala and is another spot of India-Pakistan War. This temple holds a special place and is among the holiest places of Rajasthan.
1965 Indo-Pak War Relation with Tanot Temple
During 1965 Indo-Pak war about 3000 bombs were dropped on either in the vicinity of the temple or on the temple, but to everyone's surprise none of them exploded. Not only that the soldiers took shelter inside the temple. The bombs that felt on nearby soldiers post too didn't explode. These bombs are part of small Tanot Temple Museum now.
Tanot Mata Temple constructed in 8th Century is holy place of Goddess Tanot which is incarnation of Hinglaj Mata and later took form of Karni Mata. Even the 1971 Battle Of Laungewala, a miraculous and brave stand of 120 Indian soldiers with very less firepower stood against 3000 soldiers of Pakistan Army with 40 Tanks is considered to be blessing of Tanot Mata. Vijay Stambha stands tall marking the victory of Battle Of Laungewala in the temple premise. 
Information About Laungewala And Tanot Temple
Laungewala Distance From Jaisalmer : 124 Km approx
Tanot Temple Distance From Jaisalmer : 121 Km
Distance between Laungewala And Tanot Temple : 52 Km
Border Distance from Laungewala And Tanot Temple : 15 Km
Mobile Connectivity : No Mobile Connectivity after Ramgarh. Only BSNL works after Ramgarh.
Interesting Fact: Russia produces the most oxygen in the World . So if you want fresh air, you know where to go to.
Please note we have started a You Tube Channel for The Tripper Vegster, where you can check videos of our experience at different locations. I request you to please pay a visit to the channel as me and my wife are working very hard to share our experiences with all of you. Please like, share and subscribe if you like what you see. Comments and Feedback are welcome. The Tripper Vegster
This is not a recent trip and I do not encourage any kind of travel during this harsh time. Please stay safe and maintain social distance to fight against the Corona Virus. A small step by you will lead to a better life ahead.
On our next blog we will be travelling to the beautiful city of Jaisalmer. So,subscribe to The Tripper Vegsters and be a "Trivester".
Please follow and like us: